Why I Became a Social Worker: 8 Inspiring Social Worker Stories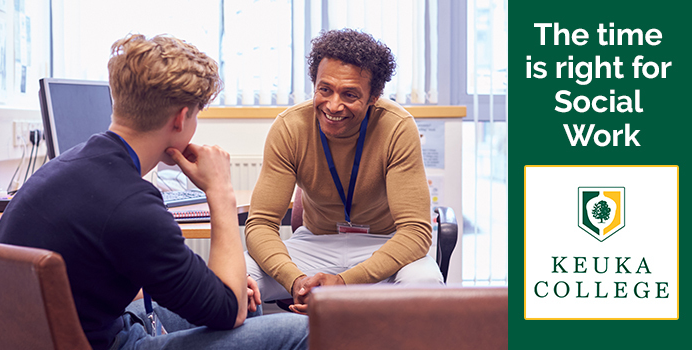 March is a month when many in the social work profession take time to reflect, recalling the stories and experiences and reflecting on "why I became a social worker."
As community-focused professionals who may spend their days connecting with children who are struggling in school or coming alongside older adults as they transition into late-in-life care, social workers deserve to have such moments of reflection and celebration throughout the year.
But in March, we get to especially thank and honor them, because March is National Social Work Month, and additionally, March 15th is World Social Work Day.
Whether you are a veteran member of the profession or considering becoming a social worker, both of these special occasions present the opportunity to reflect on social work and its impact on the world. At the individual, family, community, and national levels, social workers have been making a positive impact in society.
At Keuka College, we would like to take this month to remember social workers of the past and celebrate the social workers of the present. We invite those who are interested in becoming social workers to read on and find inspiration, motivation, and next steps toward their career in this important field.

Social worker pioneers (L-R): Jane Addams, Ida B. Wells, Frances Perkins, Harry L. Hopkins
The Difference Social Workers Make: How Five Social Workers in History Have Changed the World
American history is full of stories of people who saw injustice in their communities and decided to do something about it. In doing so, they became the first known social workers in the United States. While there are many names that deserve to be remembered and honored for their contributions to their communities, the five described here represent some of the most prominent early Americans who took to social work to become change agents in their societies.
Jane Addams (1860–1935)
In the early 1900s, Jane Addams set out to make a difference in the lives of poor immigrants in Chicago. Addams founded Hull House, the first American settlement house with her friend Ellen Gates Starr. An advocate for the impoverished, women's suffrage, and labor reform, Addams was the first American woman to receive the Nobel Peace Prize. Due to her remarkable achievements on behalf of communities in need, Addams became known as "The Mother of Social Work."
Ida B. Wells (1862–1931)
Born into slavery in Holly Springs, Mississippi, Ida B. Wells dedicated her life to social justice. As the first person to document the lynching of African Americans, Wells took to writing to advocate for social change. Wells helped to found the Alpha Suffrage League, The Negro Fellowship League, and the NAACP. A few more examples of her many achievements include opening settlement houses for African Americans migrating from the South to the North and advocating for women's rights. Wells also worked with Jane Addams to oppose segregated schools in Chicago.
Frances Perkins (1880–1965)
Frances Perkins was inspired to work on behalf of her community when she witnessed the Triangle Shirtwaist Company fire in 1911. Just under 150 workers, including children, died in the fire because they were unable to escape due to locked doors. Perkins set out to lobby for industrial reform, which would ultimately lead to President Franklin Delano Roosevelt appointing Perkins as Secretary of Labor. In that position, Perkins was instrumental in changing the workweek for women from 58 hours to 48, advocating for a minimum wage law, and drafting several acts including the Fair Labor Standards Act and the Social Security Act.
Harry L. Hopkins (1890–1946)
Born in Sioux City, Iowa, Harry L. Hopkins began his social work career by the age of 22. Named Executive Secretary of the Board of Child Welfare in 1914, Hopkins would go on to lead the Gulf Division of the American Red Cross and Department of Civilian Relief's Red Cross mission to aid Mexico. Hopkins drew the attention of President Franklin Delano Roosevelt when he founded a Red Cross relief program during the Depression. Roosevelt established Hopkins as director of the Federal Emergency Relief Agency and appointed him to the President's Draught Committee, the National Resources Planning Board, and the National Emergency Council. Hopkins also served as Secretary of Commerce for Roosevelt.
Alfred Neumann (1910–2002)
Born in Austria and forced to flee Nazi-occupied Vienna, Alfred Neumann came to the United States and received his master's degree in social work in 1941. Building on his experience of aiding Jewish families as they fled to Austria, Neumann's American work took the form of working in Jewish family and children's services agencies. Neumann consulted for the Office of Economic Opportunity and Head Start. He served as the executive director of Jewish Family and Children's Service of Colorado for 28 years.
A Day in the Life of a Modern Social Worker
If you are thinking about becoming a certified social worker, you may be considering several potential roles. For example, you may be interested in working with children and families. Perhaps you have a passion for rehabilitation services provided to people struggling with addiction or substance abuse. Or maybe you want to embark on a career of service to veterans, the elderly, or people with disabilities. Whatever your specific interest is within the social work sector, learning about the day-to-day schedules of social workers can help you understand what current professionals in the field find most rewarding about their jobs and what it may be like to set foot on a social work career path.
Like the historical figures discussed earlier, these modern-day community workers personify the seven core principles of social work: service, social justice, dignity and worth of the person, importance of human relationships, integrity, and competence. Their examples demonstrate what social workers are passionate about and what motivates them to do the often difficult but deeply rewarding work that they do.
The Road to Rebuilding: A Mass Casualty Mental Health Social Worker
Mental health social worker John Weaver grew up with a keen awareness of mental illness due to his father's own struggles. As someone who was passionate about combating stigma both around social workers and mental illness, Weaver told The Guardian that he set out to "advocate and educate around those issues and try to change some of the public perceptions." Weaver specifically works with mass casualty situations. His days may look like meeting with the grieving widow of a plane crash victim or supporting children whose parents have died.
"I think some of the best social work I've done has been in the aftermath of some of those horrible plane crashes," says Weaver. "Just to support families and friends of folk who were lost in those kinds of events, and help them get started on the road to rebuilding their lives."
Commitment to the Role: A Suicide Hotline Social Worker
When Cassie Mills Flagler, a graduate of the Keuka College Bachelor of Social Work degree program, began her field practicum, it turned out that she was beginning the next phase of her career as well. At Contact Hotline & TeleCare at Contact Community Services in East Syracuse, New York, Flagler spent her practicum building relationships with hundreds of people through telephone conversations. She stayed calm, shared resources, and provided support to callers who were in a suicidal crisis.
Her excellent work not only served hundreds of people—thousands if you include the families and friends those people have—it led to Flagler being named Contact Community Services' 2020 Hotline Scholar.
"Cassie immediately rose to the top of our list of candidates," said Contact Program Manager Kristine Knutson. "This recognition is given annually to a hotline volunteer or intern currently in school. Cassie was recognized for her positive attitude, commitment to the role, and strong telephone counseling skills. In fact, we loved her so much that we hired her after her internship ended." 
Now a graduate of Keuka College, Flagler works at Contact full time as a training and data manager.
Providing a Small Space: A School Social Worker
Ericka Santiago-Diaz, a school social worker at College Achieve Greater Asbury Park Charter School in New Jersey, knows that the key to student success is empowering them both in and out of school hours. That is why she delivers school supplies, technology equipment, food, and donated clothing to students at their homes. Santiago-Diaz conducts in-person home visits on a daily basis, ensuring that families and students have what they need.
At school, Santiago-Diaz works hard to ensure that students know her office is a safe place to come, process their feelings, share their struggles, and even "break down."
Santiago-Diaz checks on students who are enrolled in school virtually by occasionally attending virtual class sessions and then sending private Google Meet link to students who seem like they could use some extra support. That way, she can meet with them individually, provide counseling and resources, and help them get on with their day in a more productive and supported way. Santiago-Diaz has office hours where students can come—either physically or virtually—and take a break from their day.
"I provide them that small space for them to just decompress if they need to," Santiago-Diaz told The Hechinger Report. The same goes for the parents, Santiago-Diaz says. "They know I'm here for them."
Write Your Own "Why I Became a Social Worker" Story with an Online Master of Social Work from Keuka College
If you find yourself saying "I want to become a social worker" after reading these inspiring accounts, the Online Master of Social Work (MSW) at Keuka College could be the ideal program for you.
Our clinically-focused MSW will prepare you to become a licensed clinical social worker with a fulfilling career and the skills necessary to meet critical needs in society. The curriculum is delivered through online courses providing the knowledge you need to become a social worker. Classes cover topics such as working with diverse groups, assessment, and treatment of trauma, professional ethics and examining social systems.
The Keuka online MSW features dedicated field placement services so that you will be supported in finding a local, hands-on setting to complete your practicum.
Our program offers two tracks: an advanced track for those with a BSW and a traditional track for those with a bachelor's degree in another field.
If you already have a BSW degree, then you can complete your MSW degree program in less than two years, comprising 33 credit hours and 55 field placement hours.
If you earned a bachelor's degree in another field, our traditional track is the best fit for you. Allowing students to continue working and study part-time, takes only three years from start to finish and includes 60 credit hours and 900 field placement hours.
Are you ready to find out if Keuka's Online MSW is a fit for you? Download your digital guide.