How to Become a Social Worker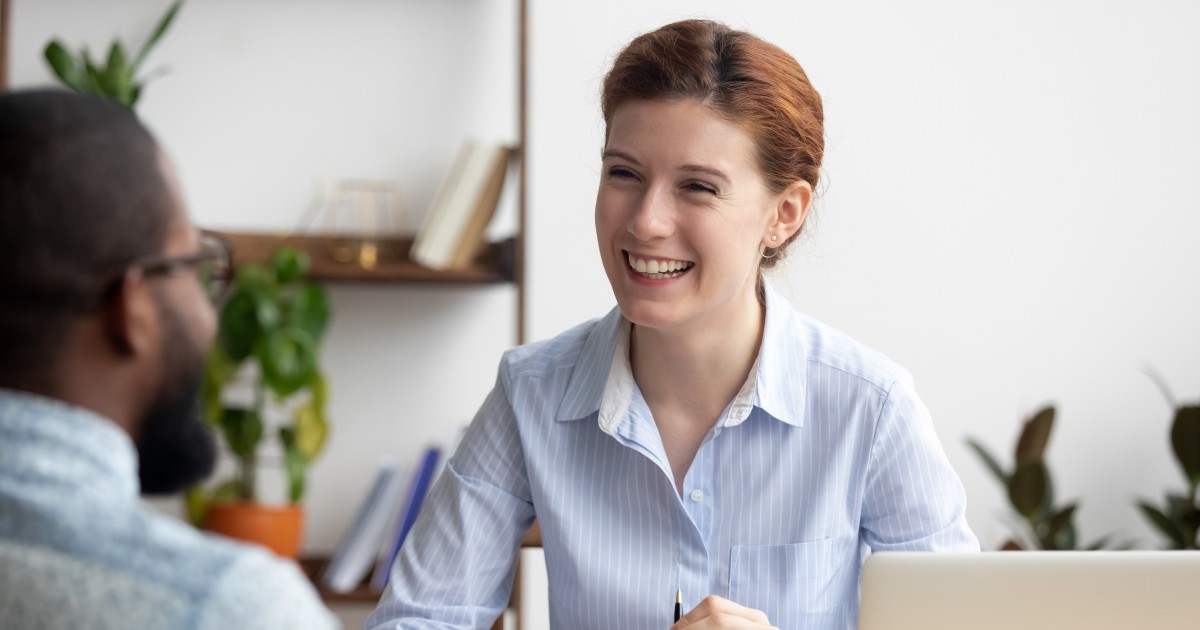 The goal of more than 600,000 professional social workers in the United States is to help clients as they work through difficult issues. Social workers teach skills and strategies for making wise decisions and coping with the world. They provide support and appropriate resources to help people of all ages, backgrounds, and experiences find solutions to social, emotional, and behavioral challenges. Those with a Master of Social Work (MSW) can also become social workers with the license to take on specialized positions.   
What Is a Social Worker?
Many social workers make a difference in their clients' lives working in schools, hospitals, clinics, senior centers, and other civic organizations, social workers meet with individuals, families, and groups experiencing common problems.  
Direct Services
A direct service social worker provides support and assistance for people who are coping with difficult day-to-day issues and major life events. 
Social workers in community centers, recreation facilities, and outreach organizations often work with clients dealing with drug and alcohol abuse and addiction, domestic abuse, and divorce. They provide educational services and facilitate connections to basic need resources, such as meal programs and free shelter.
In hospitals and other medical facilities, they help patients and their families navigate the complexities of medical care and recovery, insurance policies, and finances, and advocate for patients' health care rights.
Social workers work in public and private schools to provide emotional, developmental, and educational support. They may also serve as liaisons between students and their families and outside services or agencies.
Governmental and local agencies also employ direct service social workers during times of community crisis and natural disasters.   
Clinical Services
Clinical social workers are trained to diagnose and treat the emotional and behavioral concerns of patients. In private practice, hospitals, and mental health agencies, they see individuals, families, and groups, providing therapy for such conditions as anxiety and depression.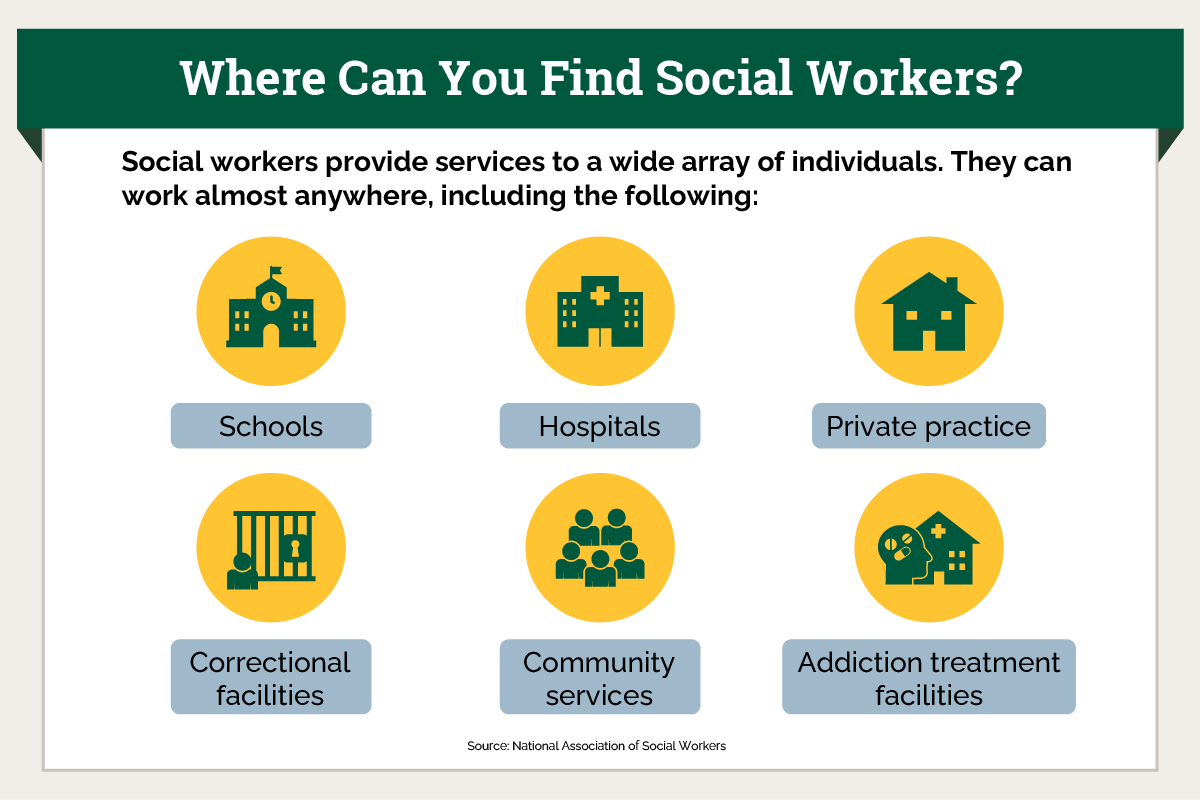 What Are the Qualities of a Good Social Worker?
Because they work with such a variety of people and in so many different settings, social workers must  have a specific but broad set of personal qualities and professional standards:
Social workers should be caring and compassionate.
They should also show a strong sense of integrity, as they're entrusted with sensitive information.
Social workers should continuously advocate for clients and patients in the area of social justice.
They should also demonstrate patience and kindness when addressing difficult situations.
Social workers must be organized and able to set boundaries to avoid burnout.
Professionals in social work jobs must also be well versed in these areas: 

Human development and behavior
The influence of cultural, social, and economic institutions on people's lives
The interactions of humans and institutions 
The importance of human relationships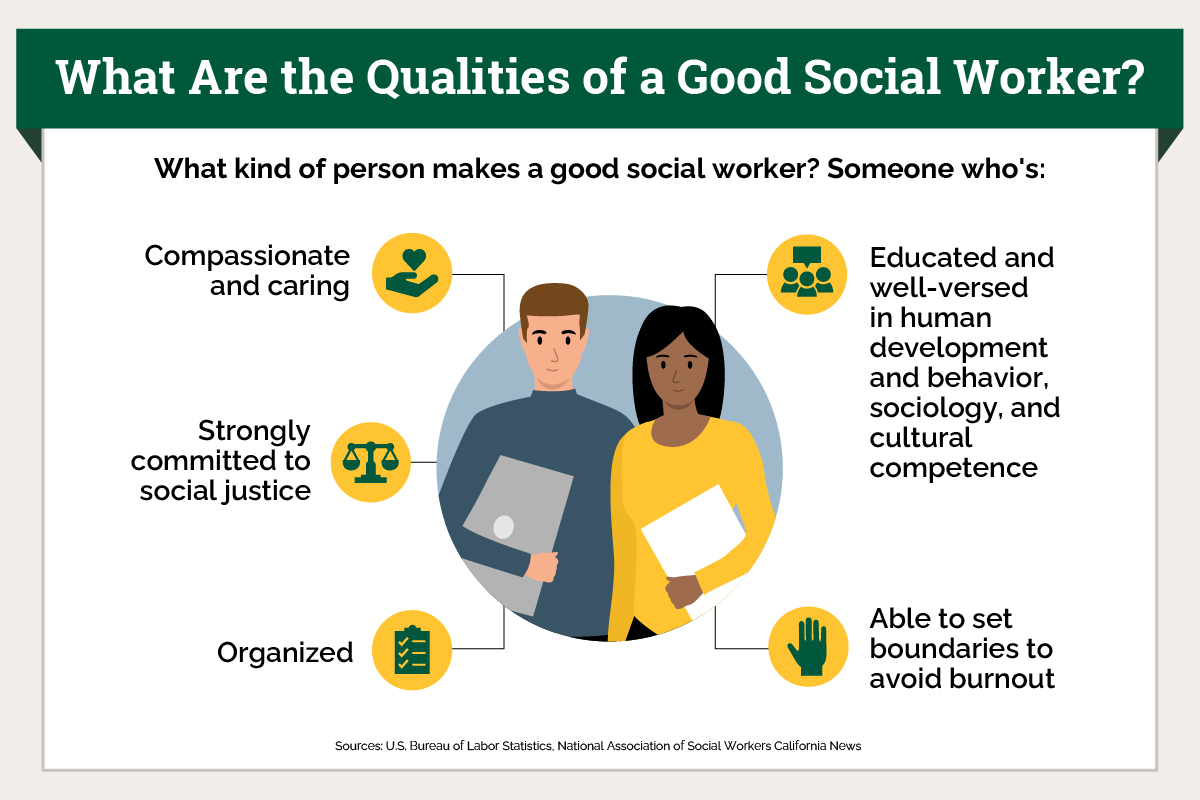 How to Become a Social Worker 
A Bachelor of Social Work (BSW) is required for entry-level social work jobs. A position in a clinical or more specialized setting, however, usually requires a master's degree. Consider the following steps to become a social worker.
Bachelor of Social Work
A bachelor's degree program in social work prepares students to work in entry-level or case management positions. Completing the core, general education, and elective coursework takes four years for students entering right after high school.  
Curricula
Earning a BSW will include courses in general education to enhance communication, ethics, and core academic skills; electives to explore personal interests; coursework specific to social work; an in-depth research project; and clinical placements or practicums in real-world settings. Here are the foundational areas of study included in the required core courses: 
An introduction to the social work profession
How to develop professionally
The study of human behavior and social systems, from theory to experiential practice activities
How social work relates to the government, the community, families, and individuals
Social welfare policies, delivery, and inequities
Clinical work in professional settings
Research in a specific area of interest
Social Work Jobs With a BSW
A bachelor's degree in social work opens the door for direct service jobs that don't necessarily require an advanced degree or a license. 
A caseworker is usually employed by a government agency and manages foster care cases. They advocate for clients and connect them with different social work resources. 
Social services assistants help social workers with a variety of tasks. This can include assisting with scheduling appointments or various treatments.
Community agencies employ some to coordinate programs for diverse populations, substance abuse, and family support.
Master of Social Work
An MSW degree is usually required for more specialized social work positions, such as in clinical settings, as it provides the opportunity to become a licensed social worker. 
The length of time required to earn this degree depends on the student's educational background and the bachelor's degree field of study. 
For students who have a bachelor's degree in a field of study other than social work, earning an MSW will take about three years and will include up to 60 credit hours and 900 field hours.
For students who have a BSW, an MSW program on an advanced track may be completed in approximately half the time with substantially fewer credit and field hours.  
Learn More about Keuka College's Online MSW Programs
MSW Curricula
The coursework required to earn an MSW is both rigorous and comprehensive and includes the following: 
The foundations of social work ethics, including how to serve diverse populations
How humans develop biologically, psychologically, socially, and spiritually through the stages of life
The workings and policies of social service agencies  
Different methods and practices in the area of research
How to identify trauma and best serve trauma survivors
Field assignments to take knowledge from theory to practice
Social Work Jobs With an MSW
Obtaining an MSW expands the opportunities to become a social worker that can assess, diagnose, and treat behavioral and emotional conditions. Completing a master's degree program also prepares candidates to take further steps that are necessary to be licensed, a requirement to work in many clinical positions. Here's a sample of positions and settings available to MSW graduates:
Health care social workers may be part of an interdisciplinary team in a hospital or medical facility to develop a support plan when a patient is discharged, assess patient needs for outside resources, and assist with financial and insurance issues. 
Child and family social workers support families and children and help coordinate necessary social work resources. This can include necessary interventions to protect children, arranging adoptions, reuniting families, and more. 
Are All Social Workers Licensed?
Licensing regulations, applications, and processes vary from state to state, and most states require only clinical social workers to be licensed. Although many rewarding social work positions don't require any credentials, having a professional license increases the chance of career advancement.   
The Association of Social Work Boards developed and facilitates the exam that many states use in their licensing processes. To register for the exam, potential licensed social workers in most states must complete an MSW. In addition, most states require a specific number of hours in a supervised practice to be licensed. Some states, like New York, also require specific coursework, such as mandated training related to child abuse. 
Prepare to Address the Growing Need for Social Work Services 
As the need for support for those who experience social, emotional, mental, and behavioral challenges, opportunities for highly qualified, licensed social workers continue to increase. In fact, the U.S. Bureau of Labor Statistics (BLS) estimates that positions for social workers will grow by 9% between 2021 and 2031. 
Learn the knowledge, skills, and strategies that you'll need to become a licensed social worker by earning an MSW from Keuka College. Find purpose and satisfaction as you meet with clients, advocate for policy change, organize community efforts, and design plans for people who need support and encouragement to successfully navigate life's unexpected twists and turns. Find out how you can be the change agent who helps individuals, families, and communities find answers and hope.
Start your Journey to Become a Social Worker
Recommended Readings
6 Reasons to Pursue a Second Career in Social Work
BSW to MSW: How to Elevate Your Social Work Career Online
Social Work Professional Development: What's the Value of an MSW for my Career?
Sources:
Association of Social Work Boards
Houston Chronicle, "The Role of Social Workers in the Fight Against Drug Abuse"
Indeed, "MSW vs. BSW: What's the Difference?"
Indeed, Social Worker Job Description: Top Duties and Qualifications
National Association of Social Workers, Clinical Social Work
National Association of Social Workers, Practice
National Association of Social Workers, Types of Social Work
National Association of Social Workers, Why Choose the Social Work Profession
U.S. Bureau of Labor Statistics, Social Workers
IG Sources:
National Association of Social Workers, Types of Social Work
National Association of Social Workers California News, "6 Key Skills That Can Make or Break Your Social Work Career"
U.S. Bureau of Labor Statistics, Social Workers